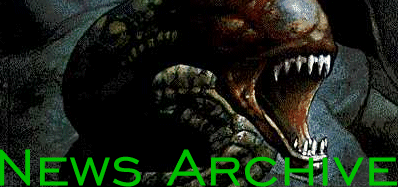 Welcome to the news archive. I made this section so there wasn't so much stuff on the front page and to keep the past information. So, I made this section. Here you can see the past updates of Get Infested. As the months past more old news will be added.
---
12.24.98
Done your Christmas shopping yet? Well if you havn't then try eBay, my very own Aliens Store, or your local department store 'cause they probably have good deals. I've already got my shopping all done (thank god!). Anywase, it's less than a month now until the latest Aliens comic book series, and it looks really good! Want to know what it's all about? Then check out the Previews section to find out all about it. Also, a new trade paperback is available. The three-part series Aliens: Kidnapped is available February 24th, 1999 for $9.95 US. This 80 page sweet collection has an awesome cover by John Bolton. Keep your eyes peeled for it, it may be hard to get!
12.15.98
A brand-new, very cool logo, thanks to Jim Harnock. Jim is the same guy who design the magnificent logo for my Predator homepage. Doesn't it look cool? E-mail Me what you think of this logo, and the previous ones.
Also, what's on the way? A new section which will host Alien story ideas by YOU, the fans of the comic books. There'll be plots in that section made by Aliens comic fans, and it's what they want to see in comic books. So send me you plot ideas!
12.02.98
The News Archive section with all the old Aliens info is now up. It'll be updated as the months pass with the previous month's news there.
12.01.98
Looking for the perfect Christmas gift for an Aliens fan you know? (Or maybe yourself?) Then I know the perfect place for you to get find them! If it's Aliens trade paperbacks or hardcovers, then The Aliens Store is the place to find them! And the best place to find other Aliens merchandise and actions figures is at eBay. It's an online auction so you'll need to get an account there before you can buy anything. BUT, the deals there are amazing! As low as $2.00 for Aliens action figures you can't find anywhere else! So be sure to check it out! (it's also the only place I've ever seen the Aliens Special Edition VHS, although it went for about 50 bucks or so.)
11.30.98
Well, I've made a new design for the page! It's better now, for me atleast. Please be sure to tell me what you think!
Also, three new sections have been added. Although only one section is working, the others will be working soon. The Previews section is fully operational. It's got a whole article on the upcoming series in 1999 called Aliens: Apocalypse - Destroying Angels, which also includes the covers of the first two issues.
11.22.98
Today I went to COMIC FREEK '98 II, a comic book convension in Toronto, Ontario Canada. I bought $57 (Canadian) worth of stuff, most stuff I haven't seen in a long time or never at all. I got the Aliens Boar action figure, Aliens: Book One Hardcover, Predator: Strange Roux and Kindred #2, Aliens vs. Predator: Duel #1 and 2 (or 2) and Booty (the one-shot), Aliens: Purge, a Starship Troopers comic book, Altered Image #1 and Aliens Platinum Edition. Damn it was alotta fun and I got alotta good stuff at good prices.
What's gonna be coming to Get Infested soon? A message board, chat room, price guide, my collection of books, and probably alot more stuff! So keep a look out, they're all coming soon!
10.24.98
An all new 4 part Aliens series is coming in January! The Upcoming comic book series is called Aliens: Apocalypse - Destroying Angels. Check out the Coming Soon to get the information on the book!
10.17.98
I've made a new logo for the page. Much better eh? Tell me what you think! I'll have this month's spotlight up within the week, sorry for not having it up now. What's in the works for the near future? Old news section, Awards section, message board and more, so keep coming back for the changes!
10.12.98
I'm sorry I havn't gotten the October Spotlight up yet, I've been busy with school and I just got back from Ottawa (Ontario, Canada) for Thanks Giving. I've planned to do the spotlight on the latest Aliens one-shot, Aliens: Wraith. It's a kick ass book with a suprise ending!
9.29.98
Aliens vs. Predator: Eternal #4 of 4 is now on sale! Sorry for the delay on the update, I've been busy with school. But now you know about it! So you can buy it at or threw a comic store near you! And check out the New Comics section for more information!
For some reason it seems that there wont be any new Aliens comic books planned. It just seems that way right now because of the information on the Dark Horse Comics website. The same goes with Predator comics (that's not including the Predator vs. Judge Dredd TPB). So what's up with that?? Hopefully we'll see some cool Aliens comics coming out soon, but this lack of comics also give some fans time to catch up on getting some other Aliens series from the past.
9.20.98
I finally got issue #2 of Aliens vs. Predator (the origional series), and I am 2 issues away from the whole set (I just hope my local comic shop gets 'em!). I also just got a Lasershot Predator action figure, which is really cool. More information on it is on my Predator website.
Congrats to the BEST band in thr world, RAMMSTEIN, who has one twice in a row in Much Music's Combat des Clips. First it was against Marylin Manson (who sucks by-the-way), and blew it away. Today, it was up against Mase, who is pretty cool, but sucks compared to Rammstein, which was proven true today. Rammstein is da best, and it will remain that way fer a LONG time!!! (nothing to do with Aliens, but I just wanted to post it :)
9.6.98
"Off topic" - New Aliens action figures are coming! Expected to be released sometime in October, the newest Aliens toys are going to be released! Kenner was holding these figures back, but they're finally coming! The new series is called Aliens: Hive Wars. It includes two kinds of Aliens, two Predators, and a really messed up Corporal Hicks. Click here to get more information on the toys and to see pictures!
Get Infested will soon rarely be updated. Why? Because I start school this tuesday. I really do hate school, but hey, I gotta go! :-(
9.1.98
September's Comic Book Spotlight is up! The month is focussed on 1996's Aliens: Mondo Heat. Everyone's favorite "bug" exterminator in his second one-shot. Check it out in the Spotlight section to check out some cool features for it.
8.26.98
Aliens vs. Predator: Eternal 3 of 4 and Aliens/WildC.A.T.S. are now on sale!! The latest Aliens comic books are now for sale! Buy them at your local comics shop.
8.21.98
I have signed up with the Comic Sites Alliance, in another attempt to get my site more noticed. It is doing pretty well now, and it always helps for that little more advertisement :)
8.13.98
Big addition folks. I added the Issue Covers section, with most of the Aliens comic book issue covers. Not all of them are there, but they will be soon (I hope). I have also added a Webrings section so that the main page loads quicker. Please be sure to e-mail me any Fan Fiction or Fan Artwork you have so I can add them to the page, and same with Alien Saga site links.
8.9.98
I've signed up with the Aliens-Net Banner Exchange Programme, in an attempt to get MORE advertisment for my site. I am also done my Aliens webring. Check out The Infest Webring, yet another Alien Saga webring, but it's got a good design :-) Be sure to join it if you have an Alien Saga website.
8.8.98
I've signed up with a few webrings, but only have the coding for 2. Right now I'm an unofficial member of the rings, because they havent added me yet. Hopefully I'll be added so I can get more awareness of my site.
8.6.98
More comic books were added to the Comics List, including trade paperbacks. I have also added The Aliens Store, where you can buy Aliens trade paperbacks at low prices! Best place to buy your Aliens comic books :)
8.5.98
Two more fan fiction stories have been added. I need more! Send them in! But for the ones that are here now, they're still good. Soon I may be putting up a Fan Artwork section up, that is if I can find some. If you have any Fan Artwork, e-mail me about it.
8.4.98
The fan fiction section is up. Although there are very small amount of stories there, I hope I'll get more stories in there. Please be sure to e-mail me about any fan fiction stories you may have written.
I've gladly made an agreement with the most conprehensive Alien site on the net, The Alien Movies Resource Page, where we advertise on eachother's site. Be sure to check it out! You'll be glad you did.
8.3.98
I finished almost the whole site. The only section unfinished is the fan fiction section, but that will hopefully be up sometime during the week. This month's spotlight is on Aliens: Special, the two-story one-shot put out last summer. I also added the links section, with lotsa links to other Alien sites. That be all for today.