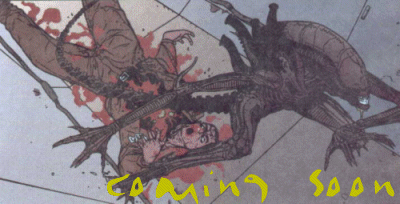 Here in the Coming Soon section, you get a preview on the upcoming Aliens comic books, with the makers, release date, and more.
---
Aliens: Kidnapped trade paperback
By Jim Woodring, Justin Green, and Francisco Solano Lopez; cover by John Bolton
In the dark reaches of the universe lies a remote planet that holds both forbidden pleasures and unspeakable horrors. For three naive smugglers, it's also a place to unload a deadly cargo: an Alien egg. But something about this particular egg is scaring off the black marketeers. And when it hatches, the nightmare will have just begun.
80 pages, $9.95
On sale February 24, 1999
Aliens: Apocalypse - Destroying Angels #1 of 4
Artwork: Mark Schultz
Writer: Doug Wheatley
Cover: Mark Schultz
Is it a coincidence that humans have met Aliens in our far future? Or is there something sinister unfolding in the universe that prefigures the Aliens on an almost unfathomable scale? This is what Alecto Throop is asking. Throop is a deep-space rescue specialist cut from the same cloth as the late Lt. Ellen Ripley: tough, smart, beautiful and instinctual. But her instincts weren't enough to warn her of her latest mission. She's about to find out that even a fight with deadly Aliens is nothing compared to meeting their masters . . . or the renegade human that has learned their secrets.
32 pages, $2.95
On sale January 27, 1999