Previous Spotlights:
[ August ]
---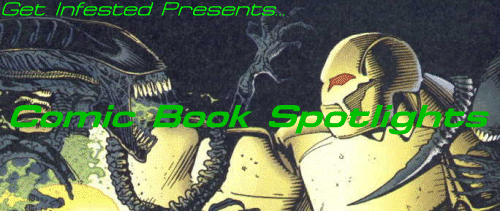 September, 1998's Spotlight:

This month's Comic Book Spotlight is Aliens: Mondo Heat. Everyone's favorite "bug" exterminator is back! This time he has a coloney to exterminate, and two "babes" to rescue. Although this comic book was released in February, 1996, it still kick ass and deserves recagnition. This issue follows Herk Mondo's adventures in Dark Horse Presents #22-24, Aliens: Colonial Marines 6 of 10 and Aliens: Mondo Pest.
---
Comic Book Info:
| | | |
| --- | --- | --- |
| Writer: Henry Gilroy | Artwork: Ronnie del Carmen | Letterer: Steve Dutro |
| Color: Pamela Rambo | Editor: Bob Cooper | Designer: Harold Graham |
---
dhorse.com Plot
When you've got a major infestation of Aliens, and the Colonial Marines are nowhere in sight, you won't find a better "exterminator" than Herk Mondo. But Herk's got a couple of big problems: he's completely unarmed in the middle of the infestation, and he's got an active volcano ready to blow beneath his feet! You can be sure of one thing, though -- the volcano may blow, but Herk'll keep his cool.
$2.50, One-shot, February 1996.
---
Page Samples:
---
[ August ]
---
Aliens: Mondo Heat is copyright Dark Horse Comics, 1996-1998.